Nefertiti Neck & Jaw Lift
Phoenix-NEW! Nefertiti Lift!
Loss of jaw line definition and a flattening across the cheek?
Suddenly Slimmer Med Spa can change that!
What is Nefertiti Lift?
Nefertiti Neck & Jaw Lift is a non-surgical technique that is performed here at Suddenly Slimmer Med Spa by our doctors and nures by placing multiple injections of BOTOX® Cosmetic or DYSPORT™ along the lower jawline it improves the definition of the jawline. It helps rebalance the underlying muscles and add beauty and elegance.
Why choose Nefertiti Lift?
The Nefertiti Lift is a new procedure which redefines the elegant lines of the jaw and neck for a youthful, tighter, more contoured appearance without surgery.
How does Nefertiti work and what is the end result?
Muscle relaxing injections into the jawline and upper neck create an upward movement of the skin. The Nefertiti Lift provides a sharper–looking jaw line border and uplifts the corners of the mouth. Patients are left with an elegant defined jawline and smile on their face because of this amazing treatment that we highly recommend.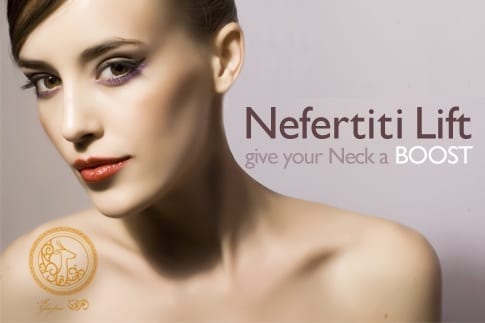 Does Nefertiti Lift treatment require maintenance? Like all BOTOX® or Dysport™ procedures, a maintenance process is required for the effect to continue. It is suggested that the treatment is repeated every three to four months. Is Nefertiti Lift the right treatment for you? The only way to determine if this treatment is suitable for you personally is to schedule an appointment at our medical spa that is conveniently located in Phoenix. During this consultation, a physical or nurse examination will take place to determine if this treatment can achieve the result you desire to have. If after the consultation it turns out that Nefertiti isn't right for you, we are positive that we can suggest an alternative option that will satisfy your needs. We are here to serve you. Are there any risks or side effects? Although it is very uncommon, the greatest risk is a "frozen" face, but with proper care and excellent staff we can easily communicate to make sure the desired look is achieved and potentially avoid side effects. MAKE AN APPOINTMENT Our friendly staff are seeking opportunities to serve you! If any of the services we offer would benefit you, call for an appointment today at 602-952-8446